Why Do Organizations Want to Switch to Digital Networks?
The most notable challenge of organizations is connected to network management. Managing a community is often laborious, thus, many organizations need digital help to simplify and automate community management. To tackle the issues of managing a vast number of people – in-house or online –  connecting everyone on every level is quintessential for a thriving networking community experience. For instance, digital networking platforms solve several issues, encourage action and communication, and aim to develop relationships between members quickly. Digital networking will produce a more connected community environment because members will be kept in the loop with happenings within the network.
Use Digital Networking to Your Benefit​
In the hybrid and remote work era, we know we would be isolated from others without community connections. That is why we must cherish our professional relationships and find the best way to keep in touch. As evidence, digital collaboration platforms have become a significant element in post-COVID work life where colleagues and professionals can connect virtually and later in person. Non-professional digital networks work along the same lines, as they usually win over new members, and concurrently, communities can expand with the help of digitalization. For instance, digital networking platforms work precisely with the power of the collective and attempt to initiate partnerships between like-minded individuals. Nowadays, creating digital collaborations is crucial in strengthening any community.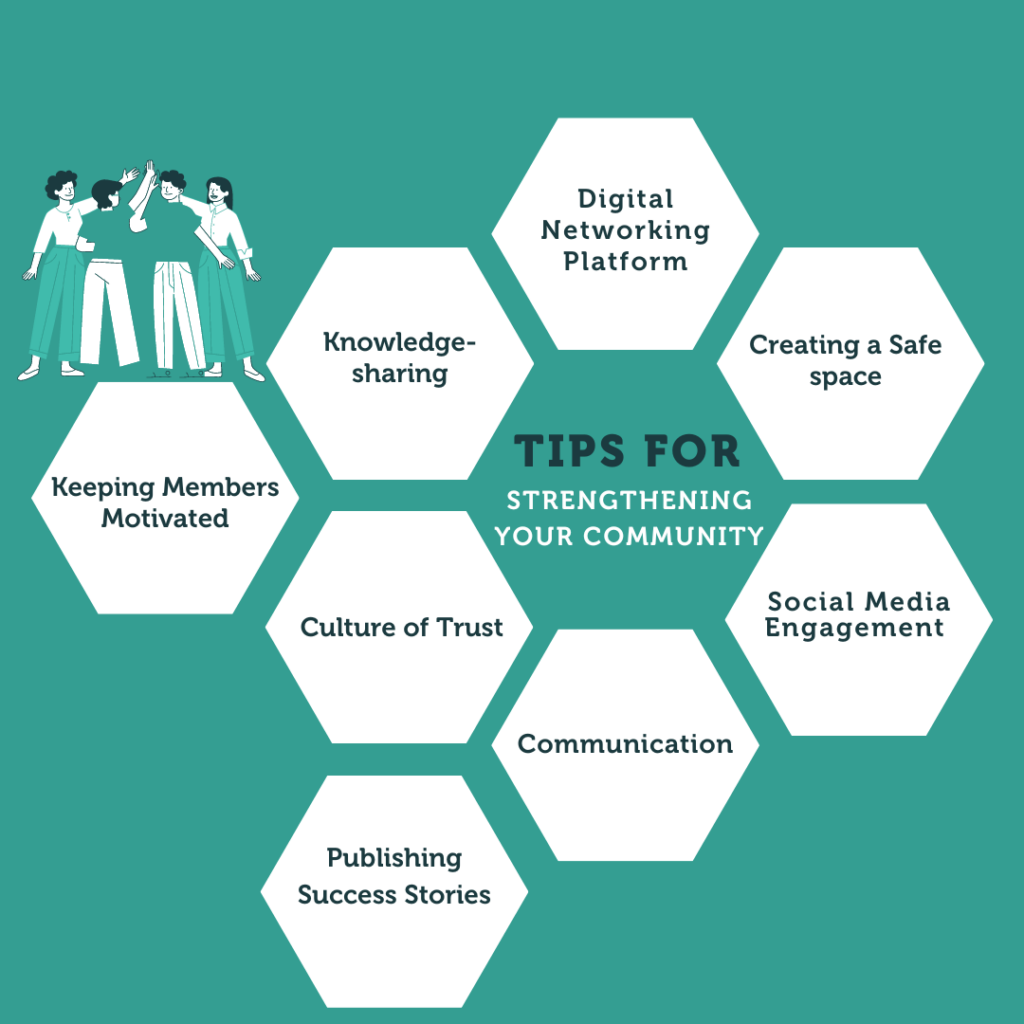 Tips to Succeed at Managing Your Digital Network
Digital networking platforms and software solutions are part of agile ways of working. The success behind digital networking solutions lies in their remarkable principles. Managing people needs a clear-cut structure and a system that upholds principles that will accelerate personal, digital, and technological progress. Therefore, digital networks must advocate principles to link people. For that, it is necessary to keep members motivated, sustain a culture of trust, enable seamless communication, create a safe (online) space for growth, fortify knowledge-sharing, and ensure social media presence by publishing and following success stories. In the next paragraph, we will elaborate on each principle of successful network management.
Culture of Trust:
This is not just a fancy expression but the foundation of an excellent digital environment. When there is trust, there is growth, and once members share their data and trust a professional or private digital community, that will unlock potentiality. You can demonstrate that you deserve others' trust by making decisions carefully, being straightforward about commitments, keeping your promises, taking small steps, sticking to the truth, and staying consistent. Supporting your community members with kindness is also an action of trust. Lastly, promote your members instead of your organization. To sum up, stay true to yourself and consistently demonstrate your values and vision.
Create a Safe Space:
A culture of trust will contribute to the realization of a safe environment. To establish this space, it is crucial to let members experience a sense of belonging to the network. Feeling safe in a community means that members feel their values align with their network, and simultaneously, members become ready to communicate with other members and organizers. Furthermore, inclusion and diversity are essential principles of building a tolerant community that will support and welcome new, diverse members joining your network. Read more about creating a safe space at Initiatives of Change website.
Communication:
Inform and keep in touch with your members regularly. Send out newsletters and share posts on your social media channels to inform your members about the latest happenings in the network. In today's digital world, a postcard or a personal note can make a difference. Thus, creative communication is the best way to reach people within your network. Without the right words, you would remain in the dark. In short, communicating within your network should be unique, personalized, and humane, even in our digital era. Get to know your next digital toolset by checking out our article about digital tools!
Knowledge Sharing:
Sharing is caring, therefore, take part in any opportunities to exchange and share knowledge among your network members. The so-called buddy system will initiate knowledge-sharing, and there are a plethora of digital tools that can help find knowledge transfer opportunities. For example, goodMatch.cloud software solution facilitates matching knowledge.
Keep Members Motivated:
Promote your members and acknowledge their contribution and importance to the network. As we learned, this will help to build a culture of trust and give a feeling of value to your members. Showcase your members' achievements and work on your channels: website, social media, interviews, conferences, print, etc. People love being recognized and simultaneously being inspired to take action. Motivation is the driving force that leads to community engagement and networking. Therefore, motivation complemented with curiosity will result in an active community platform and rich networking.
Publish Success Stories:
Success stories are the best to keep you visible. Sharing success stories within your network is highly essential to keep your members motivated, up-to-date, and enthusiastic. As we established earlier, the more satisfied your members are, the better the network functions on every level possible. Don't shy away, put out your daily heroes and heroines and create traffic on your platform and channels.
Social Media Engagement:
In today's fast-paced life, social media is often seen as a refuge, connection point, and even addiction. Social media being so diverse and divisive means that it provides engagement for many and contributes to building networks and connections. It is a versatile channel that will help you find new community members and connect to existing ones. Having an up-to-date social media presence with regular weekly posts will build authenticity and fortify interest.
Use Digital Networking Platforms:
Several tools will meet the needs of your network. Initially, you might be happy with a digital database of your members and the possibility to send newsletters to them, later, when you grow, you might need an individual platform where members can contact each other directly and even give suggestions within the network.
Stay in touch with us!
Follow us on social media and find out more about TeachSurfing & GoodMatch:
Instagram, Facebook and LinkedIn